Typical cast Tube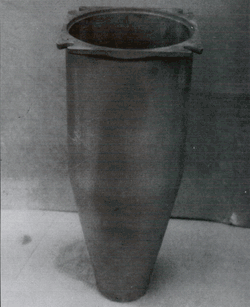 ALLOY CAST IRON COLLECTION TUBES FOR WESTERN PRECIPITAOTR RESEARCH COTTRELL UOP-BUELL-ZURN MULTI-TUBES
SIZES AVAILABLE ARE 3", 6", 9", 10" AND 12"


Typical Cast Bars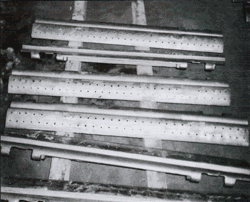 DUCTILE IRON GRATE BARS FOR BETROIT STOKERS
Ductile iron grate bars will withstand higher operating temperatures than the normal cast iron grates. Less tendency to warp or deform due to temperature excursions. Will pay for themselves the very first time your temperature goes over 750 degrees Fahrenheit.


SPECIFICATIONS
CONSTRUCTIONS: Rugged alloy cast iron with Brinell hardness of 450 for high abrasive conditions. Assures long life, lower maintenance costs. Outlet tubes with added protection against abrasion also available. Quarter inch think shell protects critical wear spots, extends tube life.

INSTALLATION: Quick and simple. Two nuts keep tube, special sealing gasket and tube sheet tightly fitted, forms a gas-tight joint. Minimizes labor required to install or remove. Easily removed by removing nuts and lowering tube into hopper. No costly cutting or welding required.
OPTIONAL ACCESSORIES
Multi-Tube has a complete line of accessories for a collecting tube assembly. All engineered with the highest quality for greater collection efficiency.
| | |
| --- | --- |
| OUTLET TUBE | TUBE SHEET |
| RECOVERY VANE | FIBERGLASS GASKET |
| INLET VANE | THREADED STUD |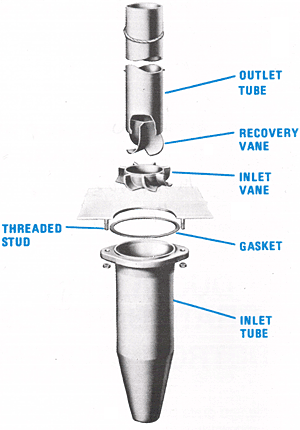 Now, replace the multi-tubes on your dust collector faster, easier, more economically. The high quality alloy cast iron contruction assures longer life, lower maintenance costs. Built to last, Multi-Tubes are the same high quality as your original equipment. We deliver when you need it...no costly down time or length, dangerour leakage, Mulit-Tube PDQ delivery gets your order there fast, we even make special "emergency" deliveries. No limitations on quantity purchases, special discounts available. Customizing available on request!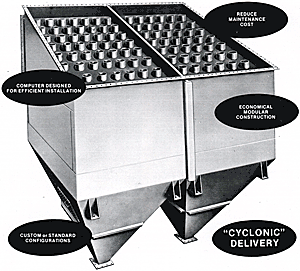 Standard Multi-Tube Arrangements
Provide Maximum Efficiency, Low Initial Cost, Minimum Maintenance
Providing you with a more efficient, more durable dust collection system is the standard of Multi-Tube arrangements to produce the highest in dust collecting efficiency, while minimizing the initial costs and lowering maintenance costs dramatically. These design configurations are engineered better to last longer. A Multi-Tube engineer is ready to consult with you on selecting the proper arrangement to meet your requirements.
SPECIAL COMPUTER DESIGN CUTS COSTS! Unique bracing system, designed by computer engineering, permits "one-piece" illustrations. Special bracing, computer tested for maximum stress, allows coupling of units 16 tubes deep by an infinite number long. Minimizes wear and tear...lengthens tube life. Maximizes dust collecting efficiency.
SHELL PLATE—3/16" thick. Designed for minimum positive or negative pressure of 18" w.h.— cuts pulsation and breathing.
INLET HEADERS—minimum of 3/8" plate.